History? Art? Japan? Present?
---
Hi Everyone,

Having toured around Europe for my book talk events last month,
a domestic symposium triggered by my recent book "Art History:
Japan 1945-2014" written in Japanese and English will be held
at Japan Media Arts Festival sponsored by Agency for Cultural
Affairs, Japan this month as follows:

[SYMPOSIUM]
Art-History-Japan:
What is a History for Propagating One's Own Art?

What is history, art, Japan, or the present?
Sociologist Masachi Osawa will answer to the question triggered
by Hideki Nakazawa's new book.

Panelist:
Hideki Nakazawa (artist)
Masachi Osawa (sociologist)
Hisashi Muroi (philosopher)
Date: Sunday 15th February 2015, 1:00-2:30pm
Venue: The National Art Center, Tokyo
Language: Japanese

Handout (pdf) (Japanese)
http://aloalo.co.jp/nakazawa/2015/02i.pdf
18th Japan Media Arts Festival
http://j-mediaarts.jp/?locale=en
Book talk events in Europe last month (with photos) (English)
http://aloalo.co.jp/nakazawa/2015/01pe.html
Book "Art History: Japan 1945-2014" (Art Diver) (English)
http://artdiver.moo.jp/dx/?p=37

Sorry for the multipostings.

Best,
Hideki

-
Hideki Nakazawa
http://aloalo.co.jp/nakazawa/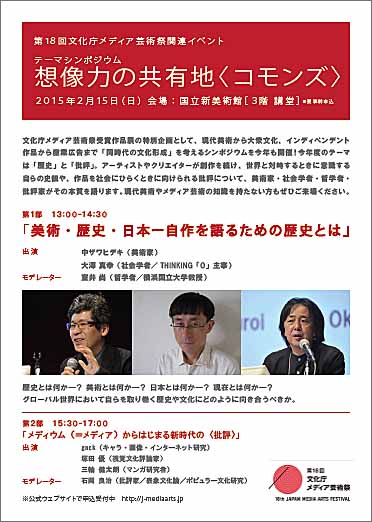 ---
2015-03-13
- This is the pdf of the Powerpoint file for the starter presentation (with the notes for the lecturer / in poor image quality).
http://aloalo.co.jp/nakazawa/2015/03a.pdf (2.6MB) (in Japanese)
2015-02-13
- Multiposted the above email in English to English speakers. Multiposted email in Japanese to Japanese speakers.
- This site is made in person by Hideki Nakazawa. See also "Notebook."
- Make contact with Gallery Cellar for Nakazawa's works and others. Email to info@gallerycellar.jp including CC to nakazawa@aloalo.co.jp .