Exhibition "Colored Magic Square" & Book "Art History: Japan"
---
Dear All,

My solo show "Colored Magic Square" will start on November 21 at
Gallery Cellar in Tokyo.
My book "Art History: Japan 1945-2014" will be publised on the
same day by Art Diver.


Hideki Nakazawa Exhibition
Colored Magic Square

November 21 (Fri) - 29 (Sat), 2014
12:00-18:00
Closed on Sun/Mon/National Holidays
Opening Reception 18:00-20:00 on Friday, November 21

GALLERY CELLAR
B1, 3-3-4 Kyobashi, Chuo-ku, Tokyo 104-0031 Japan
+813-6225-2466
http://gallerycellar.jp


Hideki Nakazawa's Book
Art History Japan: 1945-2014

1,500 yen + tax
ISBN: 978-4-908122-00-2
size: 210 x 257 mm
Bilingual - Japanese / English
Published on November 21, 2014

ART DIVER
http://artdiver.moo.jp

This book is an enlarged and revised edition of "Contemporary Art
History: Japan" which was published in 2008 by Aloalo International.
Talk Event with Yohei Kurose at Genron Cafe (in Japanese):
http://peatix.com/event/58958
Lecture Series at Aoyama Book School (in Japanese):
http://www.aoyamabc.jp/culture/contemporaryart-abc/


Sorry for the multipostings.

Best wishes,
Hideki Nakazawa
http://aloalo.co.jp/nakazawa/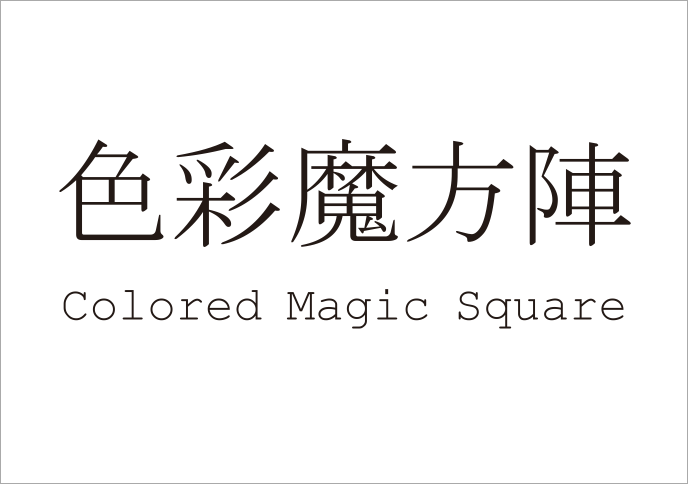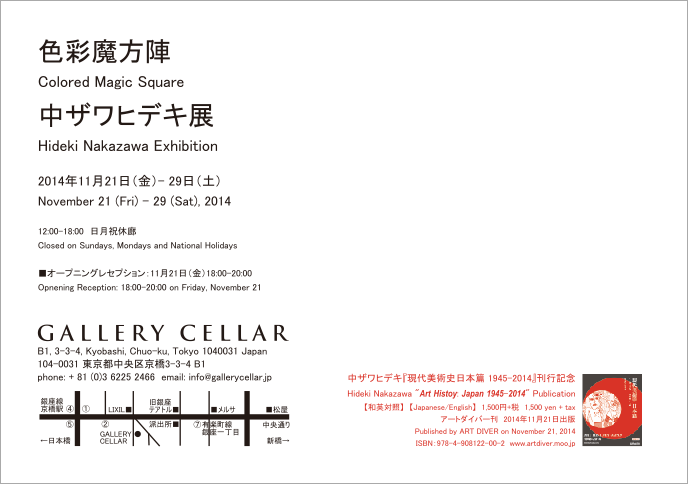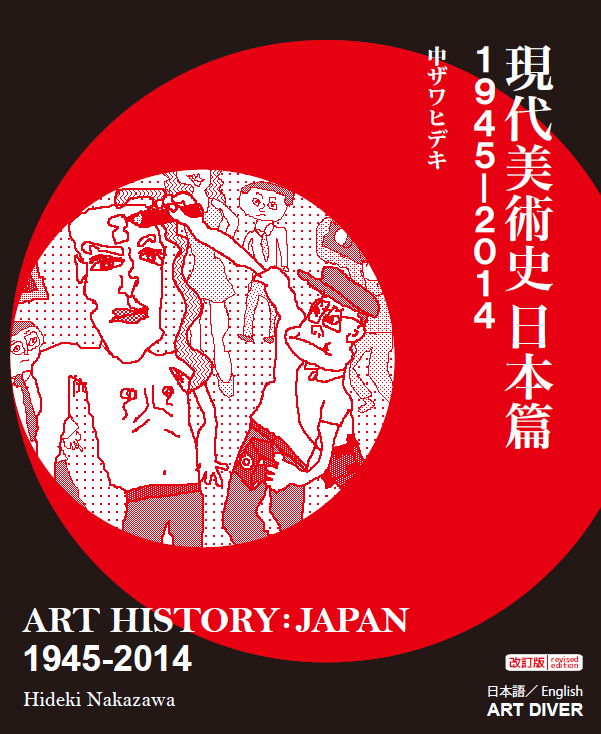 ---
2015-01-06
- See also: http://aloalo.co.jp/nakazawa/notebook/2015n.html#n2015-01-05

2014-11-19
- Multiposted the above email in English to English speakers. Multiposted email in Japanese to Japanese speakers.
- This site is made in person by Hideki Nakazawa. See also "Notebook."
- Make contact with Gallery Cellar for Nakazawa's works and others. Email to info@gallerycellar.jp including CC to nakazawa@aloalo.co.jp .