Gigmenta with Jun Tsuzuki
---
Dear All,

Two-man exhibition with Jun Tsuzuki will be held as one of the events of
"Gigmenta," an art festival in Tokyo.
Tsuzuki and I have held several times of open conversation on "Vector v.s.
Bitmap" since 2000s. Moreover, we both two were used to be expressionists
who participated in Nippon Graphic Exhibition in 1980s, and were commercial
illustrators or simulationists in 1990s.
Gallery talk with art historian Kae Ishii will be held on the first day.
My exhibits will present a bit different aspect from my last solo show at
Kichijoji Art Museum.

Jun Tsuzuki X Hideki Nakazawa Exhibition: Early Illustrations and Recent Works
Monday, 15th - Saturday, 20th of April, 2013
10:30 - 18:30 (till 17:00 on the last day)
Bunpodo Gallery (4F, 1-21-1 Kanda Jinbocho Chiyoda-ku, Tokyo)

[Gallery Talk]
With a guest Kae Ishii, art historian. (in Japanese)
Part 1: 17:30-18:30 at Bunpodo Gallery
Part 2: 19:00-20:00 at Bigakko

Gigmenta 2013 http://gigmenta.com/ (in Japanese)
Tsuzuki X Nakazawa http://gigmenta.com/001.html (in Japanese)

Sorry for the multipostings.

Hideki Nakazawa
http://aloalo.co.jp/nakazawa/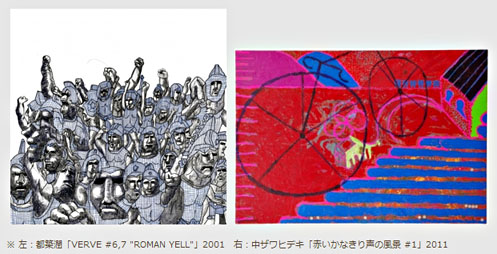 ---
2013-04-13
- Multiposted the above email in English to English speakers. Multiposted email in Japanese to Japanese speakers.
- This site is made in person by Hideki Nakazawa. See also "Notebook."
- Make contact with Gallery Cellar for Nakazawa's works and others. Email to info@gallerycellar.jp including CC to nakazawa@aloalo.co.jp .