Solo Show at Kichijoji Art Museum Is Ongoing
---
Dear All,
My solo show at Kichijoji Art Museum in Tokyo is ongoing.
Let me reannounce future related events.

-

Hideki Nakazawa Exhibition: Art Viewed With Brain
in session - Sun, Feb 17, 2013
Kichijoji Art Museum

Closed: Jan 30
Open Hours: 10am-7:30pm
Admission: 100 yen (free under elementary school, over 65 or the handicapped)
Hostd by Kichijoji Art Museum (tel +81-422-22-0385)
Cooperated by Gallery Cellar, Fuchu Art Museum

[Future Related Events]

Talk "The Day 'Brainwaves Drawing' Was Born"
Hideki Nakazawa x Ryoko Kamiyama (Curator from Fuchu Art Museum)
2-3:30pm, Sat, Jan 26, 2013. Capacity 90. Reservation required.
* You can see 10 pieces exhibited at Kichijoji Art Museum, 4 at
Fuchu Art Museum from the series 'Brainwaves Drawing' just now.

Talk "Hideki Nakazawa's Art"
Hideki Nakazawa x Kae Ishii (Doctor Course of Waseda University)
2-3:30pm, Sat, Feb 16, 2013. Capacity 90. Reservation required.
* Ishii's great book "Hideki Nakazawa's Art" published in 2008
is available at the museum shop of Kichijoji Art Museum.

New Works Installation by the Artist
2pm-, Sun, Jan 20 & Sun, Feb 10, 2013.
* Change the exhibits in public. Exhibition schedule is as follows:
Stone-Arrangement Painting on the Board No.1 (1999) in session - Jan 20
Stone-Arrangement Painting on the Board No.2 (1999) in session - Jan 20
Stone-Arrangement Painting on the Board No.3 (1999) Jan 20 - Feb 10
Stone-Arrangement Painting on the Board No.4 (2013) Jan 20 - Feb 17
Stone-Arrangement Painting on the Board No.5 (2013) Feb 10 - Feb 17

http://www.musashino-culture.or.jp/a_museum/ (Japanese)
http://aloalo.co.jp/nakazawa/2012/12be.html (English)

-

Notice: My solo show at Gallery Cellar has been postponed.
Sorry to those who were looking forward to it.

Jan 18, 2013

Hideki Nakazawa
twitter https://twitter.com/nakaZAWAHIDEKI
facebook http://www.facebook.com/nakaZAWAHIDEKI
HP http://aloalo.co.jp/nakazawa/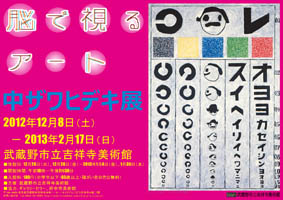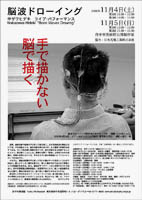 ---
2013-01-18
- Multiposted the above email in English to English speakers. Multiposted email in Japanese to Japanese speakers.
- This site is made in person by Hideki Nakazawa. See also "Notebook."
- Make contact with Gallery Cellar for Nakazawa's works, writings, lectures and others. Email to info@gallerycellar.jp including CC to nakazawa@aloalo.co.jp .